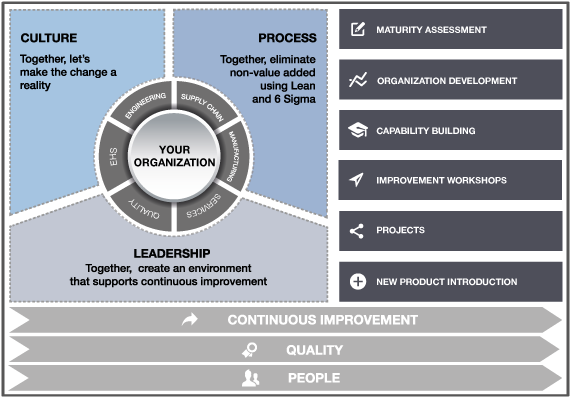 All our actions are carried out following an approach based on 1 preliminary interview, 3 Fundamental Principles (People, Quality, Continuous Improvement) and structured around 3 Main Axes (Culture, Process, Leadership)
BEFORE THE « WHAT», THE « WHY » . . . Differentiate the symptoms from the disease!
A preliminary interview will allow us to clarify together the encountered problem, while ensuring that it is not the consequence of a hidden problem (not yet identified).
Trust, Teamwork, mutual respect, open communication, transparency are the foundations of an efficient relationship and high degree employees engagement.
Quality should become a natural way of life for collaborators, suppliers, customers . . .
« Continuous improvement » (in both manufacturing and in support functions) to focus on the customer needs, reduce costs, increase productivity and drive to competitive advantage.
Safety first, Voice of the customer as a starting point, Go to see, Stop to fix problems, Develop competencies . . .
Eliminate non-value added, from « push » to « pull », standardize, first validate then implement.
Listen actively, Promote continuous improvement, use visual approach, define clear and coherent KPIs, decide by consensus, implement quickly . . .